In my last blog post I spoke of two images that had a big future impact on me as a photographer. This was the second: Mother and Son On A Local Bus.
The image looks relatively serene, a quiet moment. But taking that picture felt more like a bungee jump; exhilaration sparked by leaving my comfort zone. I knew that when the shutter sounds—all bets are off, anything can happen.
But nothing did. I got the photograph.
Before that moment I found it easy to talk myself out of taking a picture. I'm more shy than brave but with camera in hand, I've learned to be bold and fearless because very rarely has my photographic bravado resulted in a bad experience.
On the contrary, the vast majority of shutter clicks have been overwhelmingly positive, resulting in a great photo, a fun interaction, a new friendship. Photography was not only educational and rewarding—it was fun and a way for a shy kid to communicate and share his vision and passions with the world.
The beauty is that photographic gifts are out there, everywhere, in unlimited supply and free for the taking.
I also knew that I had stumbled upon something I would never get tired of. It has been a lot of years since then, and so much has changed, yet my enthusiasm for photography has only grown more intense with every passing year. I am truly The Passionate Photographer and maybe you are too. The gift of photography, a lifelong love affair that only grows stronger.
I have owned many cameras over the years and have experienced the paradigm shift from analog to digital. Even with this dramatic transformation, important concepts of photography have remained the same. It's the content that counts the most. An image has the power to move people, enlighten, inform, entertain and transform light and time into something tangible. It really is magic.
Images can change the world. This is an underlying message of the content you will find here, and you and your camera have the power to be part of that change.
If you've ever been disappointed by the gap between the picture you envisioned and the one you actually got, return back here and I'll help you close that gap. Looking back at a photographic lifetime, I have culled from my experiences the best ways to help you become a better photographer. I have distilled the process into ten steps which are revealed in the Passionate Photographer Book and hear on this Patreon Site, only expanded.
I will put forward a wealth of ideas and creative solutions that every photographer will add their unique vision to. My goal is to draw out the personal vision of every patron, encouraging a personal and unique way of looking at the world we all possess but don't always have the confidence to pursue.
In this newly updated, revised and expanded content from my book, many of the core concepts remain. But a lot has happened to me and the industry in the years since its first writing. I've tweaked and expanded key concepts, which have evolved from my recent experiences, and of course I've kept shooting, so I have new photographs to share from my travels.
There has never been a better time to pursue photography. More pictures are being taken than ever before. We are in a new golden era. My passion is ignited, much like it was when my friends and I poured through that camera catalog, dreaming of following that new camera into the adventures that came with it.
If you are a returning visiter to this Patreon site and promise to make serious attempts at the suggestions I put forward, I promise you will become a better photographer and your passion-fire for photography will ignite.
I'm looking forward to being with you on that journey because I know how the joy of photography can have the most positive effect on your work and your life. Let's go.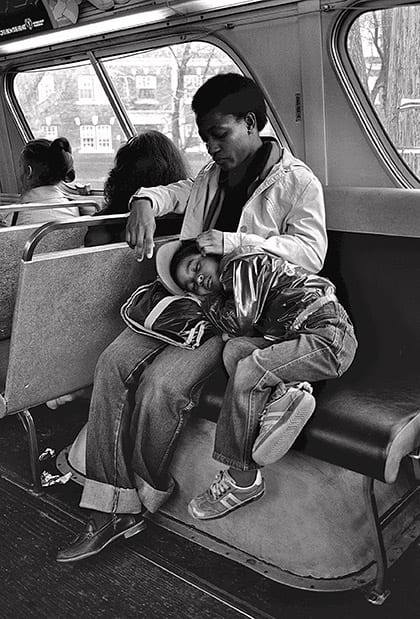 Mother and child on a bus. A simple image but not an easy one to take on a crowded, quiet city bus. Street photography is not a time for timidity: be bold even if it's outside your comfort zone. You will be rewarded.