POk, let us begin. When I think back to the initial spark that ignited my passion for photography and all things photographic, it takes me to my childhood and a specific moment when I was eleven years old. Outside my suburban Montreal apartment, my two best friends Andre and Roger were devouring a "Direct Film" catalog with geeky excitement. I quickly joined them in their enthusiasm.
There was page after page of cool-looking cameras decorated with buttons and knobs and I have to admit, it wasn't photography as an instrument for social change that I was thinking about. I was enamored with the camera as this cool object that I wanted to own.
The object of my desire? A Russian goddess called the "Zenit E". It was the beauty of this intricate tool with all its magic dials, plus the fact that at $79, it was within the financial realm of a newspaper boy's salary. With an interest in journalism, I had spent my first summer's earnings on a Smith Corona manual typewriter and was about to spend my life's savings on a tool that would save me from typing a thousand words every time I clicked the shutter. It turned out to be my greatest investment.
My enthusiasm for the process could not be contained when I finally bought my first camera, a Yashica TL Electro X (which I ultimately chose over the Zenit) and everyday, climbed to the roof of my apartment building on Ward Street in Montreal to photograph the beautiful sunsets and planes making their approach into Pierre Elliott Trudeau Airport then called Dorval.
I don't remember consciously thinking that I would someday like to be on the planes I photographed and see the world with my camera, but that's what happened, and in retrospect, it was what I had dreamed of.
I thought about the people on those jet airliners and speculated on who they were and where the came from. I was basically a shy kid. The camera was my ticket to experiencing the people and cultures of faraway lands.
I quickly realized the camera would change the way I saw the world around me. Of course my eyes were always open, but with a camera it felt like I was truly seeing for the first time.
Two images helped shape what was to follow.
The first, was taken when I was 14, at a local swimming pool. It was not-great-light, noonish-day sun. But when I aimed my Nikon FM (I had upgraded by then) with 50mm lens at the young woman and her perfect dive—after developing the film, I quickly came to a realization that had powerful photographic repercussions.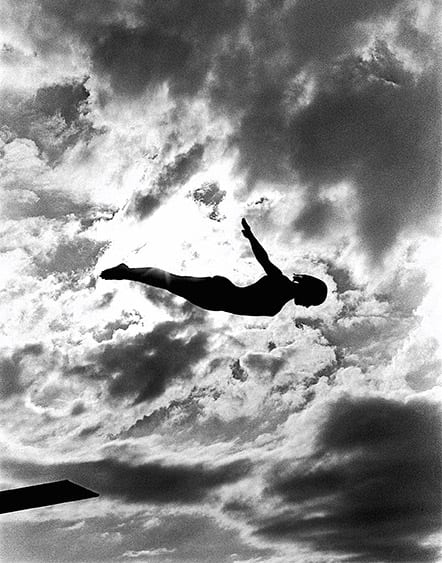 I already understood that photography was the perfect way to capture a literal representation of what I saw. But this backlit silhouette taught me that I can use photography to create images very different from reality. The photographs can look much better (or worse) but most importantly, I could harness its transformational power to express how I felt about the world in a very personal way. This is where the art of photography lives. This is where I will nudge you in your own personal journey in photography. Stay tuned.
The image of the girl diving turned out way better than the reality of what I saw and experienced at that local suburban swimming pool. This picture revealed to me that I could harness the power of photography to share my personal vision with the world.