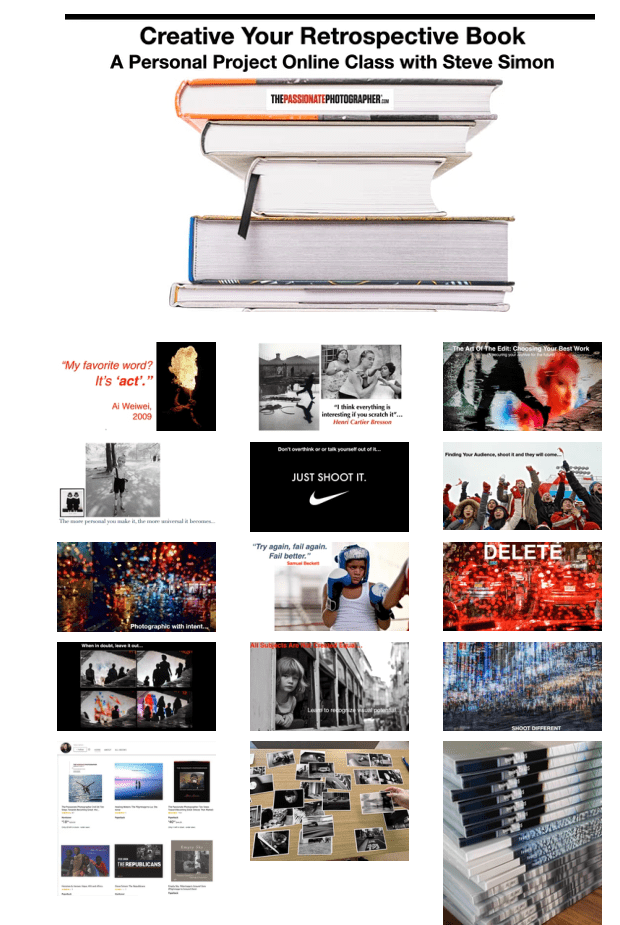 I have been speaking a lot lately with photographers about what they are and are not doing with their work. Too many of us have our images hidden in our hard drives and the harsh reality is, that's where they will likely stay unless we take action.

I have a new workshop which starts next month to bring your best work into the light by creating a photobook from the images lying dormant in your hard drives. This online workshop has grown from the Personal Project sessions, inspired by students whose projects were to organize and cull their work into essentially a retrospective monograph of their strongest work. With this course I ask you to get into your archive with fresh eyes to pull out up to 1000 of your images for me to cull them down to a manageable number.
From there, we collaborate to build a narrative that amplifies your visual voice, using the Lightroom Book Module. The power of this process will accelerate your growth and give you new confidence with my help spending time thorughly editing your work to weed out the weak so only your best work makes the cut. We then together create a legacy book of your best work. 

The key to our success will be this close collaboration. We know our work so well it becomes impossible to be objective when scrutinizing it. The emotional metadata we see and feel when we look at our work is hard to discard. I will articulate why and how his choices were made offering you new insight into your own work. The type of book we create; number of pages, number of pictures, how you combine words and pictures to tell a greater story, the book format—all will be determined by your specific monograph or project in collaboration with me and fellow participants. 
Join me for this five-week intensive photobook making course to transform your work into a finished book using Lightroom's Book Module.
Dates: (Tuesdays) May 23-June 20, 2023 (Class times to be determined by participants availability)
Genre: Photobook Monograph
Group Size: Max 6 participants
Skill Levels: All
Includes: Mentoring by The Passionate Photographer Steve Simon – Collaboration and culling of up to 1000 images of your strongest work. – Personalized assignments and editing for your artist statement/introduction/afterword – Individual reviews – Group reviews – PhotoBook Resource Guide with more than 60 of the world's best sites for On-Demand printing, Publishers, Distributors, PhotoBook Stores, PhotoBook Blogs and Book Fairs. – Training on editing, sequencing and the Lightroom Book Module as well as a PDF of your final book, ready for printing.