There are a lot of different passions under the photography umbrella. Maybe none stronger than passion for a cause. There was arguably no one more passionate about the stories he worked on than the great W. Eugene Smith.
Smith was behind some of the best-known photo essays for Life magazine: Country Doctor, Nurse Midwife, and Spanish Village among them.
Later in his career, along with his wife Aileen, Smith moved to southern Japan to the village of Minamata to document the carnage caused by mercury poisoning of the water supply by the Chisso Corporation's dumping of industrial waste into the bay.
For three years, they documented Minamata for their book of the same name. The Smiths' photographs and words personalize the story and give a detailed account of the toll the tainted food chain had on the people there, including severe health problems and birth defects. The book includes one of Eugene Smith's most famous image, Tomoko Uemura in Her Bath. (see above).
Documentarians like Donna Ferrato, who produced comprehensive photographic coverage on domestic violence in her book Living with the Enemy, which was eight years in the making, or Eugene Richards, whose raw reporting of a Denver hospital in The Knife and Gun Club: Scenes from an Emergency Room, are two examples of photographers identifying a cause or subject close to their hearts and putting in the effort until they were ready to share their final, brilliant result with the world.
Nature photographer James Balog is a great example of someone who thinks big and outside the frame. He is not content to take an easy, traditional approach to his work. For his book Tree: A New Vision of the American Forest, he took hundreds of photos—many while rappelling from surrounding trees—and digitally merged them into composite images to capture the grandeur of his subjects.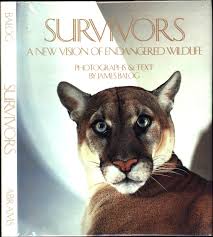 In his remarkable book Survivors: A New Vision of Endangered Wildlife, Balog wasn't interested in the romantic imagery of wildlife in idyllic environments and golden light which say that all is good in the animal world.
Instead, Balog's vision of the project was new and original. He proposed to bring these animals into the studio, away from their usual habitat, and photograph them with sophisticated studio lighting usually reserved for fashion and advertising images.
He had difficulty garnering support for his project until he made images from the project for people to understand his idea.
In his Extreme Ice Survey project, he uses time-lapse, stills, and video to record the melting of the earth's glacial ice caused by global warming. The project became an Emmy-award-winning film (directed by Jeff Orlowski) and a book, Ice: Portraits of Vanishing Glaciers.
Is there a cause that's close to your heart? Why not harness the power of photography to add your voice for the benefit of getting the word (and pictures) out.