OK, this is great news for Z9 shooters. We were not complaining about current Z9 technology but take a look at some of the new stuff our Z9's are about to get with the Version 2.0 update coming April 20th. New video upgrades are off the charts, but so too are the still photography improvements.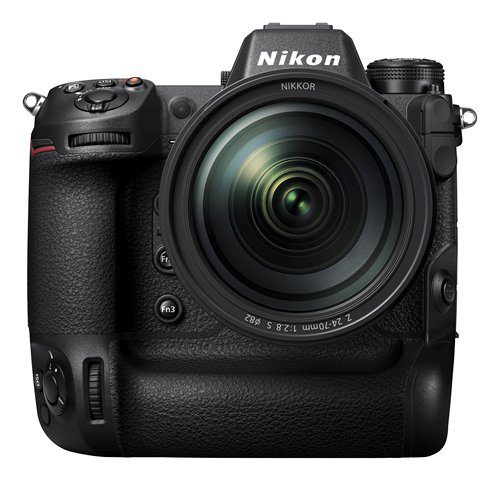 We will be able to create our own custom AF Area Box by adjusting both height and width to suit specific shooting scenarios and lock onto the subject faster—the new wide area C1 & C2 in the menu. Wow.
My favorite and most used Wide Area Selection box just got much more flexible with 20 new custom wide area selection patterns soon to be available, which work in concert with newly enhanced subject detection. Overall, the AF system stability and tracking performance will be even better, especially in low light, low contrast and backlit scenes.
Further AF upgrades include a "focus point selection speed" setting, which lets you adjust the speed at which you can move focus points around the frame.
Total Recall
I personally have been hoping for enhanced "Recall" features using the function buttons and Nikon has been listening. Along with new memory-set functions giving instant recall of several focus positions you can now set the function button to "lock" the setting with one-touch of the function button. Press again to unlock. No longer will you need to press and hold to activate the recall settings!
This will be super handy when you want to make wholesale changes like moving to a slow shutter speed blurring option with one button push and so many more possibilities with this powerful yet underused option.
Cool New Effect
There a unique new "in camera motion blend" which lets you take a series of images of a subject crossing through the frame, and you can choose up to five of the frames for the Z9 to create a composite multiple exposure-like final image where your subject appears in up to five different places in the final photo. This is done in camera for instant review and use.
I have enjoyed the electronic viewfinder on the Z9 (and all Nikon mirrorless cameras) but the view has been improved with up to double the current refresh rate to 120fps for a smoother more realistic portrayal of the world through the EVF. Nikon has also improved the prioritization of viewfinder mode with more of the DSLR shooting flow. The increase frame rate might take a little more juice from the battery but the Z9 battery is so robust it's unlikely to impact battery life significantly.
Action shooters get a new pre-release capture mode letting you record up to one full second of images onto the buffer, simply by half pressing the shutter or AF-ON button. This cool new option is a variation of a similar capability that first appeared on the Nikon 1 camera and works when you're at 30 or 120fps rates. You can vary this pre-capture at .3, .5 or full second intervals.
Also for the action shooter is the new burst mode review, which makes looking at bursts easier by grouping them together letting you quickly skip to subsequent bursts without scrubbing through all the images.
For longer exposure work like star trails, the BULB display will now include a live count of exposure time and the display also dims to preserve power and your night vision.
Other areas of improvement in this update include: white balance tweaks, confirming high speed shooting is displayed more clearly and enhance control ring options. Auto exposure has been enhanced for more stable exposures with human faces for when a subject turns away from the camera and faces it again and other compositional changes. Snapbridge will now be able to upload 8 megapixel files up from it's current two.
As you are no doubt noting, this is a huge increase in features and performance and the camera has only been out for about four months. The video updates are even more profound than those for still.
I can't wait to incorporate many of these new additions to my shooting process and no doubt, it will result in images I just could not get with previous Nikon camera bodies. This is very exciting! But be patient. I understand the firmware update may take a few minutes. Well worth the wait.